Egypt: Lower
Map by
cairnswk
Guide by
jricart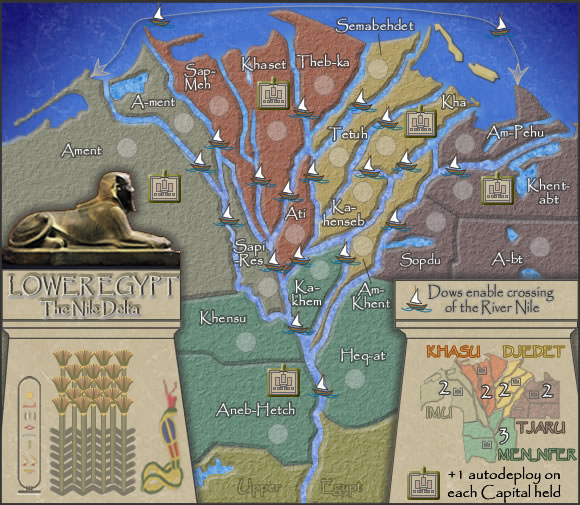 Introduction
Launched in 2008, Egypt: Lower is one of the smallest maps in Conquer Club as it has just 20 regions.
The map is based on the historical regions surrounding the Nile delta and is the first of four maps in the Egypt series (Egypt: Lower, Egypt: Upper, Egypt: Valley of the Kings and Egypt: Nubia). The particular features of this map are the Dhows (i.e. boats) illustrating the crossing points where adjacent regions may attack each other and auto-deployment (+1 troop bonus) on held capitals. The map, like the rest of the maps in the Egypt series, features well-made Egyptian design aspects.
Due to its size, the map is best suitable for two player, small multiplayer (up to 6 players) and small team games. The map is not recommended for more than 7 players or quad games as with these settings each of the players will only get 2 regions when starting.
How to play Egypt: Lower