sempaispellcheck wrote:This needs to be redone for 2015, now that groups are determined.
It could also probably use an XML rewrite to better mirror the actual process of clarification.
I will work on the XML part and could probably have something tomorrow.

sempai
The format for this year's World Cup has 6 groups of 4, who progress to a round of 16, so would need a gameplay change and not just a visual update.
--------------------------------------------------------------------------------
Final Map:
Description wrote:This map was created to commemorate the 2015 FIFA Women's World Cup in Canada. The map features teams as territories in qualifying groups as the bonus regions, including a special world cup territory in the middle of the map."

Players begin in qualifying confederations; the group stages and playoffs all start neutral, with increasing neutrals towards the finals. Each team can play (attack) each other team in the same qualifying group, and corresponding teams that progressed to the Group Stage proper. More than one team in the Group stage is required to open up conditional borders to the corresponding winner/runner-up/third place slots in the Round of 16. The Round of 16 slots can also attack back to teams within the corresponding group. To win the game, you can either eliminate your target, eliminate all your opponents, or conquer and hold both the Finalist positions.
Mapmakers:
MrBenn
and
sempaispellcheck
Small Map: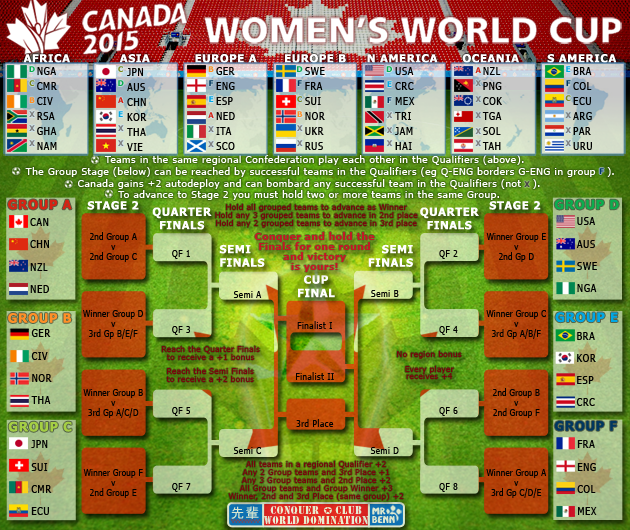 Large Map: