1588 - Spanish Armada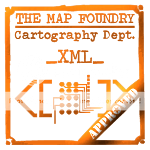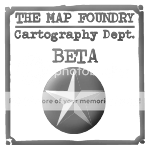 Draft: 6/7/11
Gameplay Stamp: 28/8/12
Graphics Stamped: 26/12/12
XML Stamped 22/7/13
Beta 14/8/13
Map Name:
1588 - Spanish Armada
Mapmaker:
cairnswk
XML:
nolefan5311
Number of Territories:
229, starting positions 48 (possibility for 12 players of 4 each)
Special Features:
Classic gameplay, Bombardments, Ranged Attacks, Starting Neutrals
Fonts:
Serifa BT (map) , Book Antiqua (legend), Monotype Corsiva (Title, Headings, Annotations)
Software:
Fireworks CS3, text - Illustrator CS3
What Makes This Map Worthy of Being Made:
It is a classic battle that deserves a place on this site.
Map Size:
As of V31 -
Small - 920W x 775H:
Large - 1023W x 864H:
Current V45 Small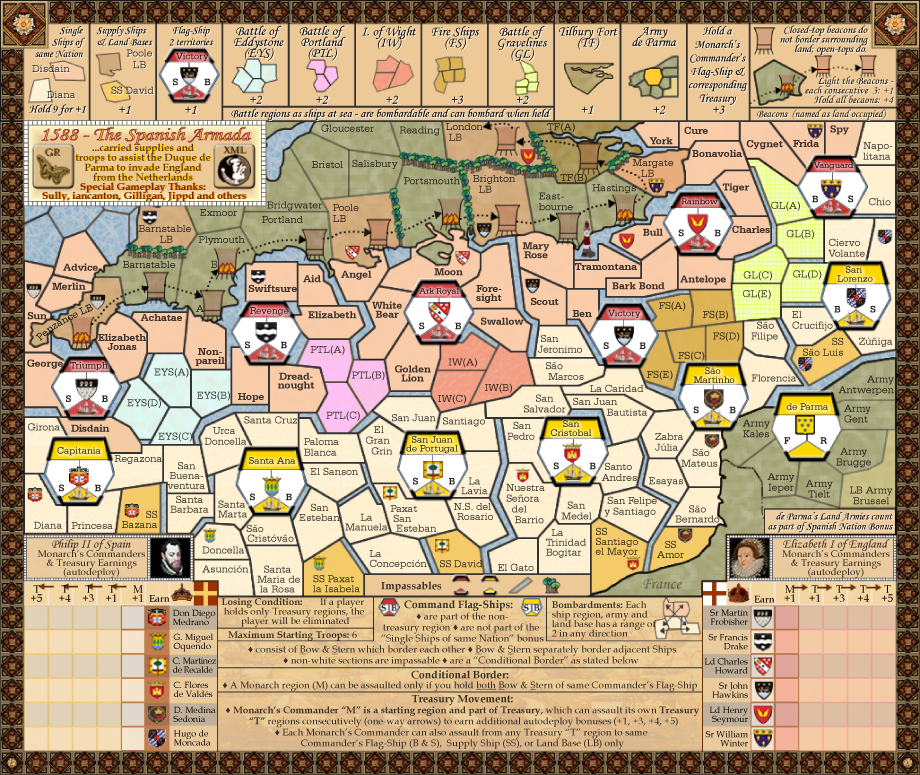 Version 42 with neutrals and start positions (propsed)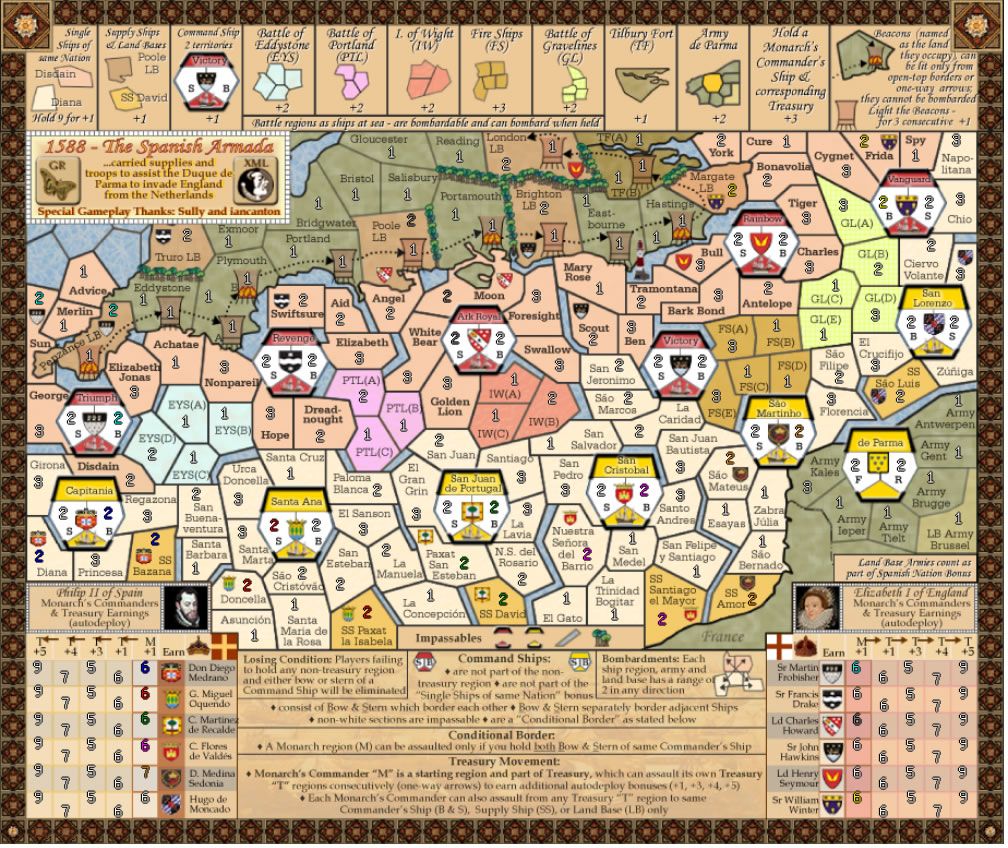 Nomeclature
Beacons -> Beacon Penzance, Beacon Eddystone, Beacon Plymouth etc....
Treasury -> Sir Martin Frobisher M1, Sir Martin Frobisher T1, Sir Martin Frobisher T3, Sir Martin Frobisher T4, Sir Martin Frobisher T5
Command Vessels -> Santa Ana Stern, Santa Ana Bow
Land Bases -> Truro LB, Penzance LB, etc, with exception of LB Army Brussel
Supply Ships -> SS Banzana, SS David etc.
Gameplay:
Players naturally battle conquer neutrals to activate bonuses, and then can fight over battle grounds as marked in the bonus section.
A feature of gameplay for any player starting on the British areas is the lighting of the land beacons, and subsequent gaining of the bonuses. Beacons can be lit only from open-top squares or from one-way arrows from another beacon.
Impassable are the blue areas of sea as marked; trees, and non-white sections of the command vessels.
SS = Supply Ship
LB = Land Base
LA - Land Army
M = Monarch
T = Treasury
The Treasury squares are named based on the owner (shield at top of column) and level of treasury conquered i.e. Medrano +1T,+3T,+4T,+5T
The Monarch square is named based on the owner (shield at top of column) and +1M
All other vessels and territories have their own names - classic style, with Command Vessels occupying two territories Bow and Stern
Each player starts with:


a Monarch territory e.g. Medrano +1M
a Supply Ship or Supply Base e.g. SS Bazana
Captaincy of one half of a Command Vessel e.g. Capitania Bow
and one other ship e.g. Diana


Each player's Monarch territory can assault sideways to build-up their treasury.
Treasury units (armies) can assault (and fort):


sideways one-way (to build bonuses)
from any treasury square to same player's Command Vessel (both Bow and Stern)
from any treasury square to same player's Supply Ship
from any treausry square to same player's Land Base (if applicable)


Each Command Vessel:


must hold both Bow and Stern of each vessel to gain that Bonus
from both Bow and Stern, can assault adjacent regions any player's Monarch square


The Losing Condition:

Players failing to hold any non-treasury region and either bow or stern of a Command Ship will be eliminated

Starting Numbers:


There are 229 (i think from preliminary xml count) territories on this map - outside the golden number range.
However, most of these will start neutral, with the exception of the starting territories.


Starting Neutrals:

181
On the Monarch and Treasury seection, neutrals are 6,5,7,8,9 respectively - these once conquered provide the armies (money) to bolster your conquering abilities.
On the map, neutrals are mostly 1, with the exception of 2s to help balance gameplay by making it harder to conquer command ships early in the game.



Starting positions:

48
2P-16 / 7P-4
3P-16 / 8P-4
4P-12 / 9P-4
5P-8 / 10P-4
6P-8 / 11P-4
12P-4

There are 4 starting territories per player and there is a range of 12 players on this map.


Aims/design style:
The influence for this map was to enhance the sea warfare maps (for those fans/players) on CC. I also have a great interest in this period of English history which is being expanded while i discover the influences of the French Calvinists and the Massacre at Paris of St Batholomew's Day. The design is somewhat already in place with the heavy English Tudor border featuring the English Rose in wood colours. With the exception of the blue sea, all colours should revolve around those from the border.
Versions & Initial Draft:
Only Versions 2,5, 7 and 9 are available before re-design.